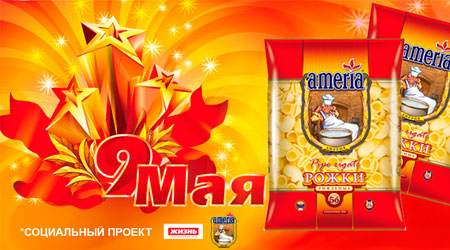 «Ameria Russ» a participant of social action in Voronezh
«Ameria Russ» LTD supported the social initiative of the newspaper LIFE (Central Chernozemny branch) and acted as one of the sponsors of the action timed to the celebration of the Victory Day! During the action, food sets were created for the free distribution to veterans of the Great Patriotic War. The action was held in Voronezh on May 9 at the address: Revolyutsii av., Officers' House. Ameria Russ LTD invited our dear veterans to come to this address and get a grocery set.
Dear veterans! Congratulations on the 68th anniversary of the Victory! On this day, we pay tribute to the memory of veterans and homefront workers, whose feat for us is an example of selfless service to the Motherland!