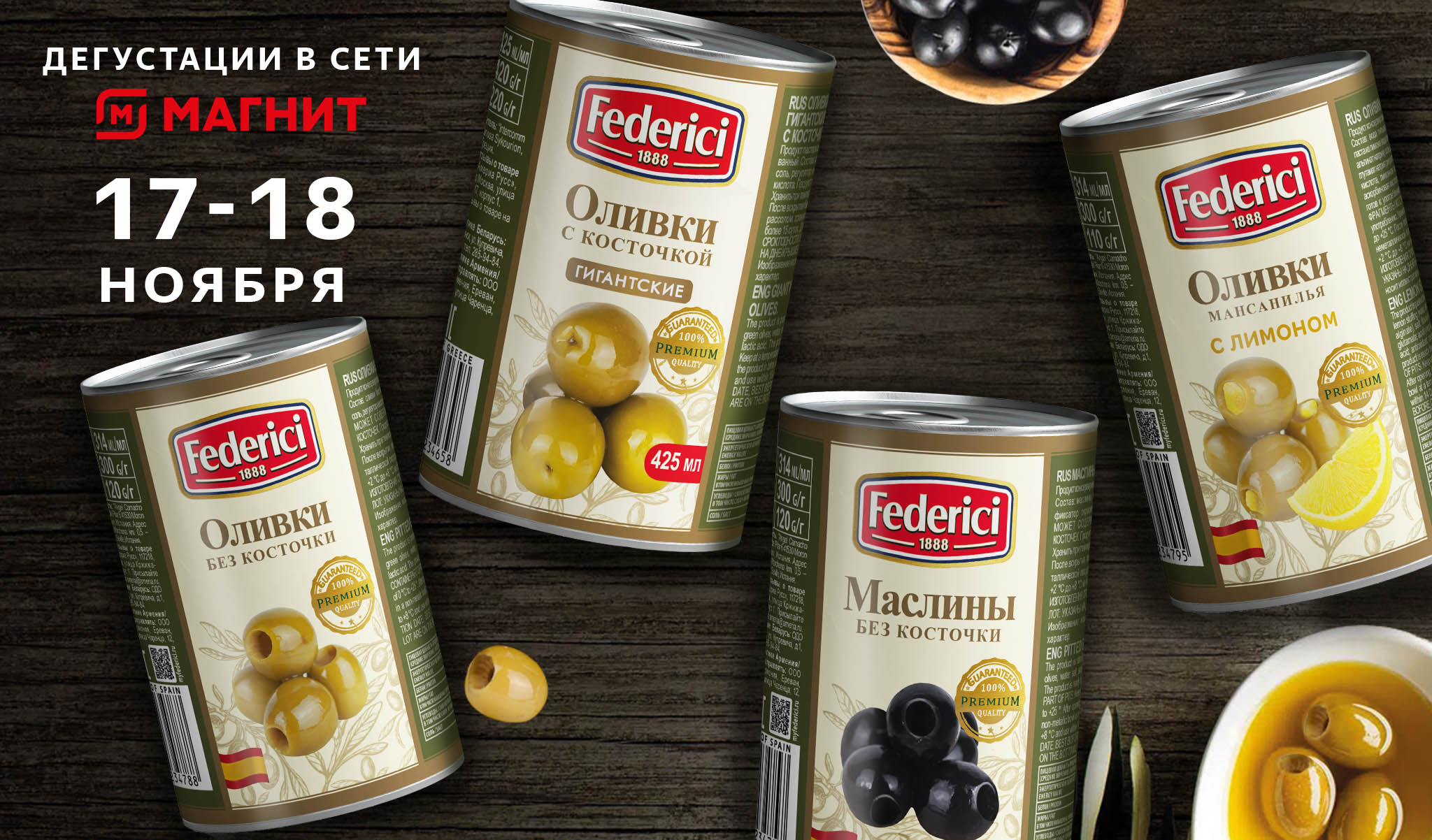 Tasting of Federici olives in Magnit retail chain stores
Dear friends, Ameria Russ and Federici are glad to invite you to an olives tasting in the stores of the Magnit retail chain.
They will be held in 12 cities of our country on November 17th at 16:00-20:00 and on November 18th at 12:00-16:00.
Come try and enjoy the taste of our product!
See you soon!
| City | Address |
| --- | --- |
| Ekaterinburg | 620028, Sverdlovsk region, Yekaterinburg g, Kirova ul, house No. 33 |
| Krasnodar | 350005, Krasnodar Krai, Krasnodar g, Alexander Pokryshkin str., house No. 34 |
| Krasnodar | 350051, Krasnodar Krai, Krasnodar g, Dzerzhinsky St., house No. 42 |
| Krasnodar | 350018, Krasnodar Krai, Krasnodar g, named after Lisa Chaikina ul., house No. 2/1 |
| Krasnodar | 350028, Krasnodar Territory, Krasnodar g, named after the 40th anniversary of Victory ul, house No. 174 |
| Nizhniy Novgorod | 603144, Nizhny Novgorod region, Nizhny Novgorod g, Tsvetochnaya (Prioksky) str., house No. 12, room P2 |
| Rostov-on-Don | 344029, Rostov region, Rostov-on-Don g, Zhdanova str., house No. 18 |
| Rostov-on-Don | 344045, Rostov region, Rostov-on-Don g, Lelyushenko str., house No. 4 |
| Saint-Petersburg | 195220, St. Petersburg, Kushelevskaya dor, house No. 1, building 1, building 1 |
| Saint-Petersburg | 198335, St. Petersburg, Leninsky Ave., building No. 49, building 1 |
| Sochi | 354002, Krasnodar Territory, Sochi g, Transport street, house No. 2a |
| Tyumen | 625023, Tyumen region, Tyumen g, Odesskaya ul., house No. 31 |
| Chelyabinsk | 454021, Chelyabinsk region, Chelyabinsk g, Moldavskaya str., house No. 14 |
| Chelyabinsk | 454036, Chelyabinsk region, Chelyabinsk g, Cherkasskaya str., house No. 15 |
| Chelyabinsk | 454076, Chelyabinsk region, Chelyabinsk g, Krasnopolsky ave., house No. 17b |
| Orenburg | 460044, Orenburg region, Orenburg g, Dzerzhinsky Ave., house No. 23 |
| Petrozavodsk | 185003, Karelia Rep, Petrozavodsk g, Kazarmenskaya str., house No. 2 |
| Sterlitamak | 453100, Bashkortostan Rep, Sterlitamak g, Oktyabrya ave., house No. 36 |
| Dmitrov | 141800, Moscow region, Dmitrov g, Professional street, house No. 32A |